Features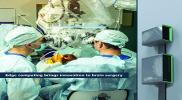 Edge Computing Leverages Modular Power in Scalable Micro Data Centres - May 2022
Edge computing is essential to realizing the full potential of artificial intelligence (AI), machine learning and internet of things (IoT). These technologies are being infused into every corner of...
More details...
Power Electronics Europe News
Sensor transmitter improves accuracy in industrial automation
The integrated 4-20mA sensor transmitter provides more than 20% savings in space and up to 50% in power, claims the company. It is designed for small, low power designs for industrial automation applications and process control, loop-powered 4-20mA current transmitters, remote instrumentation, and smart sensors.

Design considerations for 4-20mA sensor transmitters include improved measurement accuracy over a wide temperature range and reduced size to fit in a small enclosure. They are also required to meet a tight current budget of 4.0mA maximum.

The MAX12900 increases system accuracy with 10ppm/°C voltage reference for up to 3.5x lower drift compared to traditional solutions, claims the company. The small, 5.0 x5.0mm package integrates 10 optimised building blocks that save between 20 and 50% space requirements compared with traditional 4-20mA sensor transmitter implementations. An integrated high voltage LDO and power sequencing capability have been added to simplify the power up of the sensor transmitter. It has reduced current consumption for low power, requiring 250µA of current maximum, enabling up to 50% power savings compared to traditional solutions.
The transmitter sensor saves system costs by converting pulse width modulation data from a microcontroller into current over a 4-20mA loop with two, three, or four wire configurations.
The MAX12900 is available in a 32-pin TQFN package and operates over the industrial temperature range of -40 to 125°C.


View PDF