Features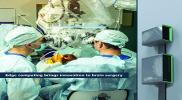 Edge Computing Leverages Modular Power in Scalable Micro Data Centres - May 2022
Edge computing is essential to realizing the full potential of artificial intelligence (AI), machine learning and internet of things (IoT). These technologies are being infused into every corner of...
More details...
Power Electronics Europe News
Integrated DC/DC buck regulator achieves EMI compliance in rugged conditions
The integrated 5.0 and 6.0A LM73605/6 and 2.5 and 3.5A LM76002/3 step-down voltage converters have an optimised pinout and are claimed to provide best-in-class thermal co-efficient to simplify the process of achieving EMI compliance. They are suitable for rugged industrial and automotive power supplies, says Texas Instruments.
The 3.5 to 36V LM73605/6 and 3.5 to 60V LM76002/3 buck regulators exceed the requirements of CISPR 25 Class 5 automotive EMC. They have a programmable output switching frequency which can be set either above the AM band, which eliminates AM-band interference and reduces output filter size and cost, or they can be set below the AM band to optimise efficiency.
The small 4.0 x 6.0mm WQFN package with wettable flanks delivers a low thermal co-efficient of 7.1ºC/W to improve reliability. It also enables post-solder optical inspection to simplify manufacturing. Optimised package pin placement allows flexibility in board design to improve heat sinking, which minimises radiated and conducted emissions, adds the company.
The DC/DC converters provide up to 60V operating input voltage range for nominal 12, 24 or 48V systems such as remote radio units, ultrasound scanners, motor drives, inverters and servo control units.
They offer up to 92% full load efficiency at 12VIN, 5.0VOUT and 500kHz switching frequency and a low standby quiescent current of 15µA to increase light load efficiency.
Automotive grade versions (LM76002-Q1, LM76003-Q1, LM73605-Q1 and LM73606-Q1) support compact automotive applications for use in a vehicle's infotainment head unit and front/surround-view cameras used for autonomous driving.
View PDF