Features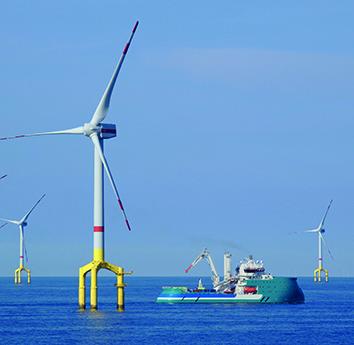 Technologies to harness wind power for net zero - September 2023
The offshore wind industry has a major role to play in reducing carbon emissions, but the industry faces a number of challenges. ABB Energy Industries discusses some technology developments which are...
More details...
AC/DC power factor correction module offers up to 1,512W
A full brick package developed by TDK-Lambda, the PF1500B-360, is for high voltage distributed power architectures
More details...
Power Electronics Europe News
Monolithic switching regulator provides four independent outputs
The Power by Linear LT8603 is a 42V input capable quad output monolithic switching regulator. It combines a boost controller with two high voltage 2.5 and 1.5A synchronous step-down channels and a lower voltage 1.8A synchronous step-down channel, for a total of four independent outputs.
The regulator can be configured with the boost controller to supply the input of the buck converters, enabling it to deliver three precisely regulated outputs, says the company, even when the input falls significantly below the regulated output voltages, such as in automotive cold crank or start-stop scenarios when the battery voltage can drop as low as 3.0V. Alternatively, the boost controller can be driven from one of the step-down outputs, providing four regulated outputs with a compact footprint.
The triple buck synchronous rectification topology delivers up to 93% efficiency. Burst Mode operation keeps quiescent current under 28µA (high voltage channels active) in no-load standby conditions, making it suitable for use in always-on systems. For noise-sensitive applications, the low EMI design meets the CISPR 25, Class 5 EMI requirements even when switching at 2MHz. Switching frequency can be programmed from 250kHz to 2.2MHz and is synchronisable throughout this range.
The minimum on-time of 85ns and cascading topology enables 16VIN to 0.8VOUT step-down conversions while switching at 2MHz. This enables designers to avoid critical noise-sensitive frequency bands such as AM radio without footprint penalties. The input range of 3.0 to 42V is suitable for automotive applications that must regulate through cold crank and stop-start scenarios with minimum input voltages as low as 3V and load dump transients in excess of 40V. Programmable power-on reset and power good indicators for each channel ensure overall system reliability, adds the company.
The regulator is offered in a 40-lead thermally enhanced 6.0 x 6.0mm QFN package. High switching frequency keep external inductors and capacitors small, to contribute to the compact, thermally efficient footprint.
Two temperature grades are available, with operation from –40°C to 125°C (junction) for the extended E- and industrial I-grades. All versions are available from stock.
View PDF