Features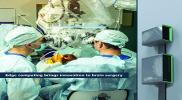 Edge Computing Leverages Modular Power in Scalable Micro Data Centres - May 2022
Edge computing is essential to realizing the full potential of artificial intelligence (AI), machine learning and internet of things (IoT). These technologies are being infused into every corner of...
More details...
Power Electronics Europe News
IGBT family uses switching technology to reduce power loss
The initial device in the 650V H2-series IGBT family has been optimized to deliver high-speed switching performance by improving fast turn-off switching in applications such as welding machines, power factor correction and high switching converters.
It has been designed with the patent pending AlphaIGBT technology and is claimed to feature industry-leading fast turn-off and offers low VCE(SAT) at 2.05V. This reduces power loss incurred during conduction and switching. The 650V minimum BVCES rating and BV performance allow for a larger safety margin to prevent sudden damage from voltage transients, says the company. Low turn-on di/dt and high turn-on dv/dt switching performance lower EMI.
The IGBTs have a soft and fast freewheeling diode and operate at temperatures up to 150°C.
View PDF