Features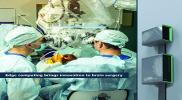 Edge Computing Leverages Modular Power in Scalable Micro Data Centres - May 2022
Edge computing is essential to realizing the full potential of artificial intelligence (AI), machine learning and internet of things (IoT). These technologies are being infused into every corner of...
More details...
Power Electronics Europe News
Low-ESR polymer capacitors increase efficiency for computing
Multi-anode, polymer, surface-mount chip capacitors make up the T59 vPolyTan series from Vishay Intertechnology.
According to the company, the combination of polymer tantalum technology with the company's patented multi-array packaging (MAP) is claimed to deliver the industry's highest capacitance density while maintaining best-in-class ESR.
Available in the moulded EE (7343-43) case code, the capacitors offer up to 25% better volumetric efficiency than similar devices, which allows for higher capacitance and voltage ratings. For example, capacitance of 150µF at 30V is three times higher in capacitance than the closest competing device, points out Vishay, adding that the packaging ensures low ESR from 25 to 150mΩ at 25°C and 100kHz.
The increased volumetric efficiency makes them suitable for computing, telecomms, and industrial applications, says the company.
The devices offer capacitance from 15 to 470µF, with capacitance tolerance of ± 20% and over-voltage ratings up to 75V. They can be used for decoupling, smoothing, filtering, and energy storage applications, where the ability to replace multiple lower-capacitance devices means that the capacitors reduce component count to save PCB space and lower costs in solid-state drives, networking equipment, and motherboards, says the company.
The capacitors feature ripple current from 1.3 to 3.1A at 100kHz and an operating temperature range of -55 to 105 degree C. They are RoHS-compliant, halogen-free, and offer both lead (Pb)-free and tin/lead (Sn/Pb) wraparound terminations.
View PDF