Features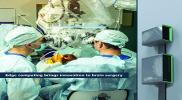 Edge Computing Leverages Modular Power in Scalable Micro Data Centres - May 2022
Edge computing is essential to realizing the full potential of artificial intelligence (AI), machine learning and internet of things (IoT). These technologies are being infused into every corner of...
More details...
Power Electronics Europe News
Railway DC/DC converter expand broad offering
Additions to the RPA series, the RPA20-AW, RPA30-AW, RPA60-FW, RP20-FR, and RP40-FR, extend the range which operates from 8.0 to 240W.
The RPA series delivers 20 and 30W in a 1.0 x 1.0inch case and 60W in a 2.0 x 1.0inch case for a power density of 4.5W/cm³. According to the company, this is one of the highest available on the market. For thermal performance, the 20 and 40W RP20-FR and RP40-FR are offered in a 2.0 x 1.0inch case.
The regulated DC/DC converters have a 4:1 input voltage range and are especially designed for railway applications. The series is EN50155-certified and designed for use in harsh environments such as rolling stock. They are also UL/cUL60950 certified, making them suitable for industrial and telecommunication applications.
Single outputs of 3.3, 5.0, 12 and 15V are available alongside dual ±12 and ±15V outputs. The control pin logic can be selected to be positive or negative. Efficiencies are up to 93%, meaning that cooling by natural convection is typically all that is needed. If required, the modules are also available with a pre-mounted heatsink.
All models carry the company's standard, three-year warranty.
View PDF