Features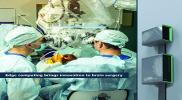 Edge Computing Leverages Modular Power in Scalable Micro Data Centres - May 2022
Edge computing is essential to realizing the full potential of artificial intelligence (AI), machine learning and internet of things (IoT). These technologies are being infused into every corner of...
More details...
Power Electronics Europe News
Compact DC/DC converters reduce EMI
The 15W DC/DC converters are in the industry standard 1.0 x 1.0inch footprint, and can operate over a wide 4:1 input range. They are suitable for use in diverse applications, such as communications, industrial control, test and measurement, broadcast and portable battery powered equipment.
The converters are available with 3.3, 5.0, 12 or 15V DC output voltages and can deliver currents of up to 4A. Operation ranges from 9.0 to 36V DC or 18 to 76V DC. This wide range reduces the number of model numbers that need to be stocked, allowing for inventory reduction and improved product availability, says the company.
Efficiencies are up to 88%, enabling the CCG15 series to operate in ambient temperatures of -40 to 85°C. All models have a ±10% output voltage adjustment, remote on-off, over-current and over-voltage protection, and carry a five-year warranty.
The converters are fully isolated with an input to output isolation of 1,500V DC and 1,000V DC input or output to case. Safety certification includes IEC/EN 60950-1, UL/CSA 60950-1 with CE marking for the Low Voltage and RoHS2 Directives.
View PDF