Features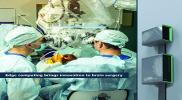 Edge Computing Leverages Modular Power in Scalable Micro Data Centres - May 2022
Edge computing is essential to realizing the full potential of artificial intelligence (AI), machine learning and internet of things (IoT). These technologies are being infused into every corner of...
More details...
Power Electronics Europe News
RKZ, high isolation, DC/DC converters meet transport and medical needs
This completes the 2W RKZ series and scales easily from the package- and pin-compatible 1W RK and RH series converters.
The 24V models join the existing RKZ converters with 5.0, 12 and 15V inputs. The RK and RH series also support the same input voltage options up to 24V and all families offer a choice of 9.0, 12, 15 or ±9.0, ±12 or ±15V outputs. The three families offer from over 150 drop-in compatible units in the SIP7 package. 3.0 and 4kV isolation options help engineers satisfy the differing safety standards of industrial, medical, rail and automotive markets in the most cost-effective way possible, says the company.

All RKZ converters are certified to EN 60601-1, which allows use in standard medical applications and to the EN 60950-1 general safety standard, making them suitable for high-end industrial applications such as IGBT driver circuitry. They carry a three-year manufacturer's warranty and modules operate at up to 88% efficiency.
View PDF