Features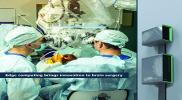 Edge Computing Leverages Modular Power in Scalable Micro Data Centres - May 2022
Edge computing is essential to realizing the full potential of artificial intelligence (AI), machine learning and internet of things (IoT). These technologies are being infused into every corner of...
More details...
Power Electronics Europe News
Two DC/DC LED drivers have high efficiency and operating temperature
The 36KC24H and

36KC24W

series are step-down constant current sources. They feature high efficiency operation up to 96% and wide input voltage range from 5.5 to 48V DC making them suitable for systems operating from

12, 24 and 36V at up to loads of 25W
Both models have a high operating temperature, PWM and analogue dimming controls and remote on/off. Typical applications include LED illumination in automotive lighting, special control lights, backlighting, decorative, landscape, commercial, street and domestic systems.
Output current is 1,000 to 1,200mA, coupled with a constant current mode, and analogue dimming, low ripple and noise, continuous short circuit protection. They meet EN55015 without external circuitry
The 36KC24H is a PCB mounting package, while the 36KC24W series is connected via output leads offering more flexible mounting options and is waterproof to IP67.
View PDF