Features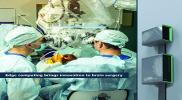 Edge Computing Leverages Modular Power in Scalable Micro Data Centres - May 2022
Edge computing is essential to realizing the full potential of artificial intelligence (AI), machine learning and internet of things (IoT). These technologies are being infused into every corner of...
More details...
Power Electronics Europe News
DC/DC converter is optimised for parallel operation
The PKM4817LNH offers 800W per unit, with up to three modules able to be connected in parallel to achieve a total of 2,200W. Parallel mode uses Droop Load Sharing, which means the output voltage has a typical droop characteristic. The output voltage slightly decreases when the load is increasing, while staying within system voltage limits.
HRR topology combines two power-control methods – voltage-regulation and ratio-regulation. It guarantees performance across 45 to 60V input voltages, commonly used in datacomms systems that are powered by front-end rectifiers. HRR guarantees the output voltage will remain stable and immune from voltage deviations that are due to power disturbances on the system bus, claims the company. This means it retains intermediate bus voltage integrity within the tolerance band required by power system architects.
The module is offered in a quarter-brick format with a footprint of 57.9 x 36.8 x 11.4mm. Output voltage is 10 to 11V at 80A within the operational system voltage between 51V and 60V. Below 50V, in regulated-ratio mode, the output voltage self-adjusts for optimal operation and secures a stable voltage of 9.0 to 11V. This is achieved even if the system bus voltage delivered via the front-end rectifier is operating abnormally. Obtaining a stable and regulated voltage while the system bus runs its normal operational voltage avoids traffic disruption, as well as providing enough time for system monitors to take required action and either turn on redundant power units or potentially shut down part of the system.
Typical efficiency is 97.1% at 60% load and flat-curve characteristics are from 20 to 70A, reducing power losses and energy consumption.
The module meets 2,250V I/O functional isolation requirements and includes input over-voltage suppression, soft-start for handling of high capacitance loads, delayed hiccup over-current protection, over-temperature protection, over-voltage and under-voltage lockout.
View PDF