Features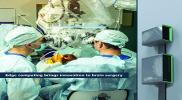 Edge Computing Leverages Modular Power in Scalable Micro Data Centres - May 2022
Edge computing is essential to realizing the full potential of artificial intelligence (AI), machine learning and internet of things (IoT). These technologies are being infused into every corner of...
More details...
Power Electronics Europe News
Yole Développement forecasts a $16billion market by 2023 for the EV/HEV industry.
The company has analysed market trends and identified many technical improvements. According to Yole's experts, the EV/HEV supply chain is strongly impacted by technological evolution. At PCIM Europe, it asks 'What are the challenges being set by EV/HEV players?' and 'What impact will they have on the power electronics industry, especially at the power module level?
It has invited Robert Bosch and Cree to present their vision of the market and how it's evolving technologically at its power electronics market briefing at PCIM Europe (10am, 20 May). Entrance is free to PCIM Europe visitors.
View PDF