Features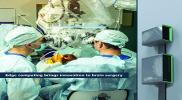 Edge Computing Leverages Modular Power in Scalable Micro Data Centres - May 2022
Edge computing is essential to realizing the full potential of artificial intelligence (AI), machine learning and internet of things (IoT). These technologies are being infused into every corner of...
More details...
Power Electronics Europe News
DC/DC buck-boost regulators have over 98% efficiency
The Picor Cool-Power PI3749 buck-boost regulator operates from 16 to 34Vin and regulates an output voltage from 12 to 34V. It provides output current up to 11.5A for power delivery over 200W. Power delivery can be increased by using single wire current sharing without any additional components. It is packaged in a 10 x 14 x 2.5mm LGA SiP module for applications including computing, communications, industrial, LED lighting, and battery systems.
The PI3751 and PI3755 regulators are designed for Factorized Power Architecture (FPA) and work in conjunction with VI Chip VTM current multipliers for PoL delivery to processors (including VR12.5 compliance) and memory (including DDR3/4 compliance) in server and data centre applications.
They are packaged in a 10 x 14 x 2.5mm and a 10 x 10 x 2.5mm LGA SiP module, respectively
View PDF