Features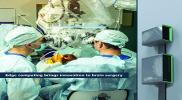 Edge Computing Leverages Modular Power in Scalable Micro Data Centres - May 2022
Edge computing is essential to realizing the full potential of artificial intelligence (AI), machine learning and internet of things (IoT). These technologies are being infused into every corner of...
More details...
Power Electronics Europe News
DIN-rail power supplies offer seven-year warranty
The Recom 45W Redin45 and 60W Redin60 models have 12 or 24V fixed output voltage and universal 85 to 264V AC inputs.
The DIN-rail mount allows rapid installation in racks, enclosures or on backboards. The 41.1mm-wide units can be end-mounted to save space, or side mounted for a low profile.
According to the company, a fast start-up time, limited in-rush current, low leakage, low output ripple and noise, ±1% typical line/load-voltage regulation and ±5% dynamic regulation ensure dependable power quality and stability in industrial environments.
Approvals include CE mark, UL-508 and UL/ IEC-60950-1 certification, EN55011/55022 Class B, EN55024 and FCC Class B for radiated and conducted EMI, and EN61000-3/-4 for EMC. Safety features include 3.75kV AC/one minute input-to-output isolation voltage, 100MΩ insulation resistance, over-voltage protection, and an LED power-OK indicator.
View PDF