Features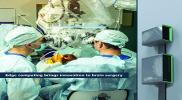 Edge Computing Leverages Modular Power in Scalable Micro Data Centres - May 2022
Edge computing is essential to realizing the full potential of artificial intelligence (AI), machine learning and internet of things (IoT). These technologies are being infused into every corner of...
More details...
Power Electronics Europe News
Magnetically coupled components are compact
According to the company, magnetically coupled components are less expensive, they are made using less material, so they are more compact and weigh less, and their loss balances are lower than those of non-magnetically coupled components (eco-design). Faster clock frequencies are also possible. The quality factor is set without exposing the choke to any thermal load, and EMC considerations are reduced. The magnetising and leakage inductances can be specifically set by adjusting the magnetic coupling. This is done by varying the geometries of the injection moulded parts and using different coil types, such as separately wound coils, bifilar coils or super-imposed wound coils.
The magnetically coupled component are designed for currents up to 2,000A and frequencies up to 500kHz, which can be increased to 2MHz in special applications. The company uses powder composite materials that have been developed and manufactured in-house and feature lower eddy current and magnetic reversal losses. The three-dimensional isotropy of the materials results in compact, lightweight structures, because the magnetic circuits are minimised. This also lowers the magnetic field strength, and the quantity of winding material used can be significantly reduced. Special magneto-restriction-free materials ensure that components run very quietly. These materials have a high saturation induction, up to 2Tesla. And the oscillation behaviour of the choke can be adjusted specifically by using certain materials or appropriate, magnetically coupled constructions with multiple coils.
Depending on the application, the magnetically coupled components from SMP are constructed for use as transducers, medium-frequency transformers, flux-compensating chokes or controlling chokes. Controlling chokes are produced by adding another coil in the role of transformer.
Magnetically coupled components are used in industrial applications in power electronics, automation and signal processing, in drive units for railway engineering, electromobility, maritime and medical engineering, for renewable energies as well as for energy supply, and in the aerospace industry.
The components are manufactured with dimensions ranging from 19 to 300mm, and weigh from 0.05 to 130kg, and up to temperature class H (up to 180°C). Protection classes up to IP66 are available according to the application. All components are RoHS and REACH-compliant, the materials used are UL listed.
View PDF