Features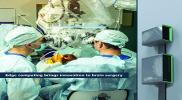 Edge Computing Leverages Modular Power in Scalable Micro Data Centres - May 2022
Edge computing is essential to realizing the full potential of artificial intelligence (AI), machine learning and internet of things (IoT). These technologies are being infused into every corner of...
More details...
Power Electronics Europe News
Battery charger IC cuts charge time by 60%
It uses proprietary MaxCharge technology that reduces charge time up to 60% compared to existing battery chargers, says the company. The switch-mode charger offers faster charge times and cooler charging to extend the overall life of electronics in many Li-ion applications, including smartphones, tablets, drones, power banks, and industrial and medical equipment.
The charger, which charges at 3.5A with minimal 18˚C temperature rise, combines narrow-voltage DC/DC power path management with MaxCharge, to support input voltages up to 14V while providing charge current up to 5A.
It provides up to 91% charging efficiency at 9Vin 3.5A with only an 18˚C temperature rise. Excess heat is reduced by controlling the IC temperature and optimise thermal performance with a thermal-regulation loop. It is pin-to-pin compatible with the company's bq24192 family.
The I2C-controlled 1S, 5A fast charger is featured in a new reference design, TIDA-00538, using MaxCharge for high input voltage and adjustable USB OTG boost, which enables turn-key access to reduce battery-charging time and improve battery run time during the discharging phase.
View PDF