Features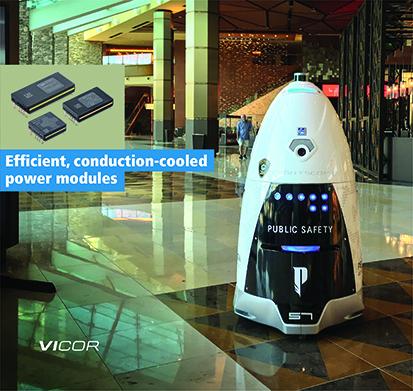 Knightscope's autonomous security robots patrol with superhuman acuity and detection prowess - May 2023
A fusion of innovative robotics, self-driving technology, vehicle electrification and artificial intelligence
More details...
AC/DC power factor correction module offers up to 1,512W
A full brick package developed by TDK-Lambda, the PF1500B-360, is for high voltage distributed power architectures
More details...
Power Electronics Europe News
Monolithic GaN transistor enables over 97% system efficiency
The transistor eliminates interconnect inductances and the interstitial space on the PCB, says EPC, resulting in a 50% reduction in board area occupied by the transistors. This increases both efficiency (especially at higher frequencies) and power density, while reducing assembly costs to the end user's power conversion system.
Provided in a chip-scale package for improved switching speed and thermal performance, it measures 6.05 x 2.3mm for increased power density. It can be used for high frequency DC/DC conversion and motor drive applications.
The EPC9040 development board is 50 x 50mm and contains one EPC2104 integrated half-bridge component using the Texas Instruments LM5113 gate driver, supply and bypass capacitors. The board has been laid out for optimal switching performance and there are various probe points to facilitate simple waveform measurement and efficiency calculation.
View PDF