Features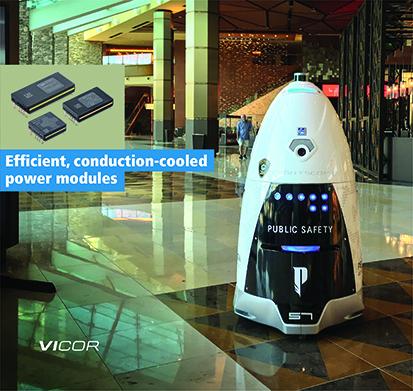 Knightscope's autonomous security robots patrol with superhuman acuity and detection prowess - May 2023
A fusion of innovative robotics, self-driving technology, vehicle electrification and artificial intelligence
More details...
AC/DC power factor correction module offers up to 1,512W
A full brick package developed by TDK-Lambda, the PF1500B-360, is for high voltage distributed power architectures
More details...
Power Electronics Europe News
Buck-boost regulators provide over 200W and 98% efficiency
By minimising switching losses, the ZVS topology enables efficiencies over 98% to maintain a high efficiency over the specified Vin range. High frequency operation (up to 2.5MHz) enables best in class power density and transient response, claims the company. An easy to use LGA SiP with integrated controller, power switches and support components, reduces design risk and speeds time to market.
The PI3749 buck-boost regulator covers a range of high performance applications including computing, communications, industrial, LED lighting, and battery systems. It operates from 16 to 34V in, regulates an output voltage from 12 to 34V and provides output current up to 11.5A for power delivery over 200W. Power delivery can be further increased by using single wire current sharing without any additional components. The regulator is packaged in a 10 x 14 x 2.5mm LGA SiP module.
The PI3751 and PI3755 buck-boost regulators are designed for Factorized Power Architecture (FPA) and work in conjunction with VI Chip VTM current multipliers to address high performance PoL power delivery to processors (including VR12.5 compliance) and memory (including DDR3/4 compliance) in server and data centre applications. They enable 48V direct to PoL when combined with VTM. The PI3751 is packaged in a 10 x 14 x 2.5mm LGA SiP and the PI3755 is offered in a 10 x 10x 2.5mm LGA SiP module.
View PDF