Features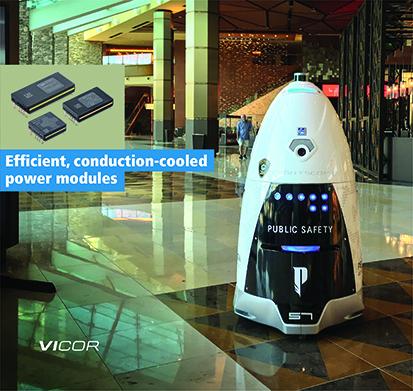 Knightscope's autonomous security robots patrol with superhuman acuity and detection prowess - May 2023
A fusion of innovative robotics, self-driving technology, vehicle electrification and artificial intelligence
More details...
AC/DC power factor correction module offers up to 1,512W
A full brick package developed by TDK-Lambda, the PF1500B-360, is for high voltage distributed power architectures
More details...
Power Electronics Europe News
New Processor Family Speeds Digital Power
Microchip announces the 14-member dsPIC33EP "GS" family of Digital Signal Controllers (DSCs). The dsPIC33EP "GS" family delivers the performance needed to implement more sophisticated non-linear, predictive and adaptive control algorithms at higher switching frequencies. These algorithms enable more energy efficient power-supply designs. Higher switching frequencies enable the development of physically smaller power supplies that offer higher densities and lower costs. Compared with the previous generation of DSCs, the new dsPIC33EP "GS" devices provide less than half the latency, when used in a three-pole three-zero compensator, and consume up to 80% less power.
These new devices includes features such as Live Update Flash capability, which is especially helpful for high-availability or "always-on" systems. Live Update can be used to change the firmware of an operating power supply, including the active compensator calculation code, while maintaining continuous regulation. Variants from this new digital-power-optimised DSC family are available in the industry's smallest, 4 x 4 mm UQFN package.
Other key features of this family include up to five 12-bit ADCs with as many as 22 ADC inputs, providing total throughput of 16 Mega samples per second (Msps) with a 300 ns ADC latency. The dsPIC33EP "GS" devices include 12-bit DACs for each of the four analogue comparators, for higher-precision designs. The two on-chip programmable gain amplifiers can be used for current sensing and other precision measurements. Including these analogue amplifiers on the device reduces the number of external components required.
The dsPIC33EP "GS" family is supported by MPLAB® Starter Kit for Digital Power (DM330017-2) which is priced at $129.99 and allows customers to explore using the new dsPIC33EP "GS" family in popular digital power-conversion topologies. For a short presentation click
The 14 dsPIC33EP "GS" family members are available in various packages, from 28 to 64 pins. For a complete list of product variants and package options click on this product variant table. All of these new DSCs are available right now for sampling and volume production.
More details on
http://www.microchip.com/dsPIC33EP64GS506-051215a.