Features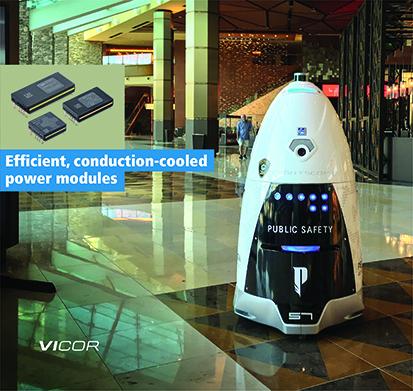 Knightscope's autonomous security robots patrol with superhuman acuity and detection prowess - May 2023
A fusion of innovative robotics, self-driving technology, vehicle electrification and artificial intelligence
More details...
AC/DC power factor correction module offers up to 1,512W
A full brick package developed by TDK-Lambda, the PF1500B-360, is for high voltage distributed power architectures
More details...
Power Electronics Europe News
High-speed gate driver pairs with MOSFET RF module
The modules are packaged in IXYS RF's DE-series low-inductance surface mount RF package. The CMOS high-speed, high-current integrated gate driver and MOSFET modules are specifically designed for Class D, E, HF and RF applications at up to 27MHz, as well as applications requiring high-speed, high-power switching. Layout techniques minimise stray lead inductance. Small internal delays make the modules suitable for high power operation where combiners are used. Two devices are available, the IXZ631DF12N100 1,000V, 12A device and the 500V, 18A IXZ631DF18N50. Both produce voltage rise and fall times of less than 5ns, and minimum pulse widths of 8ns. In pulsed mode the 500V module provides up to 95A of peak current; the 1,000V module provides 72A. The isolated substrate provides over 2,500V isolation. The devices are RoHS-compliant and easy to mount, with no insulators needed.
View PDF