Features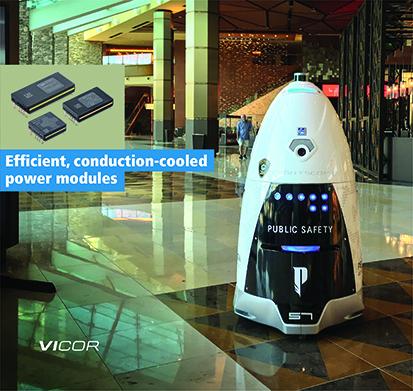 Knightscope's autonomous security robots patrol with superhuman acuity and detection prowess - May 2023
A fusion of innovative robotics, self-driving technology, vehicle electrification and artificial intelligence
More details...
AC/DC power factor correction module offers up to 1,512W
A full brick package developed by TDK-Lambda, the PF1500B-360, is for high voltage distributed power architectures
More details...
Power Electronics Europe News
Report outlines importance of power module packaging
The growth is expected to come from the interconnection and substrate segments, respectively 14% and 13% between 2014 and 2020. The global growth for raw material is expected to reach grow 12% in the same period, with a global market of $1.7B for 2020. Power Packaging Technologies Trends & Market Expectations report (April 2015) looks at power module packaging design especially at the substrate, thermal interface materials, baseplate, encapsulation, die attach and interconnection levels. In order to increase power module yield and reliability, companies are working on new products for power packaging, especially for the common failure locations, die and substrate attach, interconnection and encapsulation. Both new designs and new materials can be used, to eliminate levels of connection or to improve interfaces. In die attach, for instance, soldering is progressively losing market share, which benefits silver sintering. Although the basic material is more expensive, taking into account cheaper equipment and manufacturing costs and improved reliability, this technology is gaining popularity. Standard wire bonding is evolving as well, with solutions increasing contact surface, such as ribbon or ball bonding. Encapsulation technologies must evolve, says the report, to handle high operating temperatures: standard silicone gel or epoxy are limited in terms of temperature, and so new materials such as parylene are being developed. To achieve ambitious governmental targets and to respect volume constraints, technology breakthroughs are needed at device and module level. The growth of EVs and HEVs will bring particular requirements, like size and cost constraints, large production volumes, and ability to automate assembly. The report also touches on the supply chain, as vertical integration increases and designers are using power modules instead of discrete components, it reports.
View PDF