Features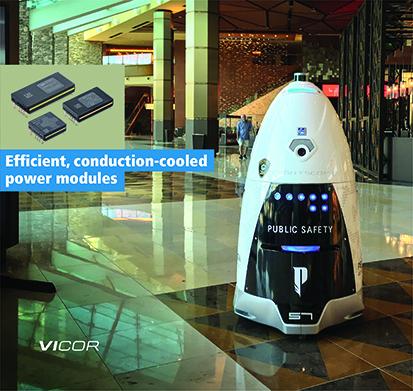 Knightscope's autonomous security robots patrol with superhuman acuity and detection prowess - May 2023
A fusion of innovative robotics, self-driving technology, vehicle electrification and artificial intelligence
More details...
AC/DC power factor correction module offers up to 1,512W
A full brick package developed by TDK-Lambda, the PF1500B-360, is for high voltage distributed power architectures
More details...
Power Electronics Europe News
Microcontrollers based on ARM Cortex-M4F minimise power consumption
They are, claims the company, the industry's lowest power 32bit ARM Cortex-M4F 48MHz MCUs. They consume just 95µA/MHz in active power and 850nA in standby mode.
A 14bit 1Msample/s ADC consumes 375µA. The company announced the best-in-class EEMBC ULPBench score of 167.4, outperforming other Cortex-M3 and -M4F MCUs available to date. Potential applications are low power, embedded applications such as wearable devices, industrial and building automation, industrial sensing, industrial security panels, asset tracking and other consumer electronics.
The integrated DC/DC optimises power efficiency at high-speed operation, while an integrated LDO reduces overall system cost and design complexity, says the company.
The selectable RAM retention feature provides dedicated power to each of the eight RAM banks needed for an operation, to reduce overall system power per bank. The MCUs can operate as low as 1.62V and up to 3.7V with full-speed operation to lower overall system power.
The ARM Cortex-M4F core's integrated DSP and floating-point enable multiple performance applications, such as signal conditioning and sensor processing, in industrial automation and consumer electronics, says the company.
The MCUs include up to 256kbyte flash and boost performance with dual-bank flash memory that enables simultaneous read and write functionality. An advanced encryption standard (AES) 256 hardware encryption accelerator enables developers to secure their device and data, while IP protection features ensure data and code security.
The MCUs can be evaluated immediately, with a target board (MSP-TS432PZ100) or a low-cost LaunchPad rapid prototyping kit (MSP-EXP432P401R) with on-board emulation.
The first device in a planned series, the MSP432P401RIPZ, is available for sampling.
View PDF