Features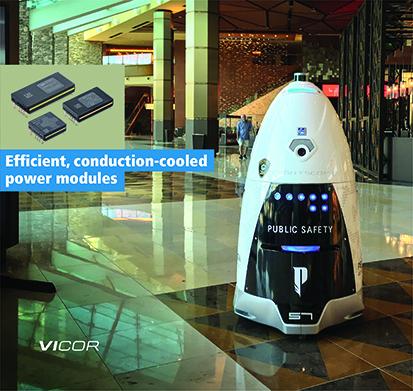 Knightscope's autonomous security robots patrol with superhuman acuity and detection prowess - May 2023
A fusion of innovative robotics, self-driving technology, vehicle electrification and artificial intelligence
More details...
AC/DC power factor correction module offers up to 1,512W
A full brick package developed by TDK-Lambda, the PF1500B-360, is for high voltage distributed power architectures
More details...
Power Electronics Europe News
TDK-Lambda adds 12V and 48V models to PFH500F series
The power modules can be programmed (read/write) or remotely monitored (read) through the industry-standard interface. The series can be conduction-cooled to a cold plate for outdoor applications and is suitable for used in COTS (commercial off the shelf), LED signage, power amplifiers and test and measurement equipment.
The latest additions to the series, the PFH500F-12 and PFH500F-48 incorporate GaN semiconductors, bridgeless power factor correction and digital control to achieve efficiencies of up to 92%. Digital isolators replace traditional optocouplers for long-term stability and reliability.
The PFH500F-12 operates from 85 to 265V AC input and will deliver 42A at 12V with an adjustment capability of 9.6 to 14.4V using the trim pin or the PMBus interface. The PFH500F-48 delivers 10.5A at 48V and can be adjusted from 38.4 to 52.8V. Both modules have a baseplate temperature range of -40 to 100°C and measure 101.6 x 61.0 x 13.5mm.
Product features and options include droop mode current share, a 12V auxiliary standby output, remote on/off, remote sense, an open collector power good signal and output trim. The PMBus can be used to program the output voltage, activate the remote on/off, change the under/over-voltage, over-current and over-temperature set points, plus read-back input and output current, input voltage and internal temperature.
The input to output isolation is 3,000V AC, input to case 2,500V AC and 1,500V DC output to case. Safety certification is to IEC/UL/CSA/EN 62368-1 standards with CE and UKCA marking for the Low Voltage and RoHS Directives.
Fully populated evaluation boards are also available.
View PDF