Features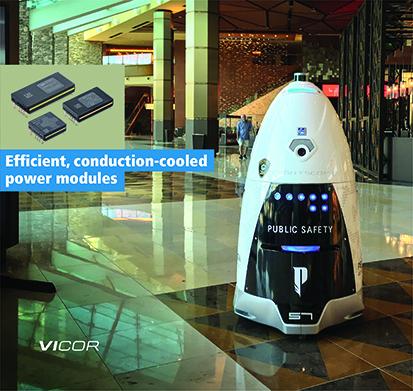 Knightscope's autonomous security robots patrol with superhuman acuity and detection prowess - May 2023
A fusion of innovative robotics, self-driving technology, vehicle electrification and artificial intelligence
More details...
AC/DC power factor correction module offers up to 1,512W
A full brick package developed by TDK-Lambda, the PF1500B-360, is for high voltage distributed power architectures
More details...
Power Electronics Europe News
150V N-channel power MOSFET improves power supply efficiency
Based on the latest generation of U-MOSX-H process, the TPH9R00CQH is a 150V N-channel power MOSFET. In addition to reducing losses, the process technology results in reduced voltage spikes between the drain and source during switching, improving EMI performance within switching power supplies.
The MOSFET is suitable for a range of applications including switching power supplies within industrial equipment, including applications in communication base stations and data centres.
The TPH9R00CQH MOSFET has a low drain-source on-resistance (RDS(ON)) of just 9.0mΩ (max at VGS=10V). This represents a reduction of approximately 42% when compared to Toshiba's existing 150V TPH1500CNH, which is based on the current generation U-MOSVIII-H process. Key figures of merit (FoM) including RDS(ON) x QSW and RDS(ON) x QOSS have reduced by approximately 20% and 28% respectively, to enhance performance.
The company says the device structure charge characteristics have been improved. The later device has a total gate charge (Qg) of just 44nC and a gate switch charge (QSW) of 11.7nC for performance in high speed applications.
There are two surface mount (SMD) package options for the TPH9R00CQH. These are SOP Advance (5.0 x 6.0mm) and SOP Advance(N) (4.9 x 6.1mm).
The TPH9R00CQH is shipping now.
View PDF