Features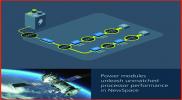 NewSpace demands low voltage, high current power for performance and longevity - Nov 2022
Matt Renola, Senior Director, Global Business Development – Aerospace & Defense
More details...
Power Electronics Europe News
Military-grade converters and filter are introduced
The DCM VIA family are ruggedised modular DC/DC converters, supplied in a low profile (9.3mm) VIA package. The DC/DC converters has wide input voltage range specifications and isolated, regulated high efficiency outputs. The DC/DC converter family, features enhanced functionality and performance, including EMI filtering, transient protection, inrush current limiting, as well as a secondary-referenced control interface for trim, enable and remote-sensing.
The DCM 3714 VIA family includes two MIL-COTS (M-Grade) versions, available now, with 270V (160 to 420V) input voltage range, and nominal output voltages of 24 and 28V with up to 500W output power.
Complementing these converter modules, the company has also introduced the MFM 270V filter module (MFM filter). This dense, low profile filter provides front-end transient protection and EMI filtering when used with any Vicor M-Grade 270V DCM 3714 VIA module, says the company. This combination enables power engineers to rapidly meet conducted emissions and conducted susceptibility requirements per MIL-STD-461E/F and input transients per MIL-STD-704F.
The MFM 270V filter module is housed in a 1714 VIA package (measuring 1.76 x 1.40 x 0.36inch or 44.6 x 35.5 x 9.3mm). The filter accepts an input voltage of 160 to 420VDC and can deliver up to 640W.
View PDF