Features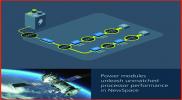 NewSpace demands low voltage, high current power for performance and longevity - Nov 2022
Matt Renola, Senior Director, Global Business Development – Aerospace & Defense
More details...
Power Electronics Europe News
MIL-COTS DC/DC converters and MIL-STD input filter from Vicor meet advanced SWaP-C requirements....
The PLEDxN series of open LED protectors from Littelfuse are designed for use with high-brightness 1W LEDs....
Alpha and Omega Semiconductor announces a 5A EZBuck DC/DC synchronous, buck regulator with Ultra Pulse Energy Mode (U-PEM)....
High-voltage GaN multilevel power converter embedded in PCB...
Claimed to be the first DC/DC converter capable of DC fan motor speed control, Rohm Semiconductor has introduced the BD9227F....
Recom says its RAC150-G series SMPS are designed for high power-density in applications with limited airflow...
Analog Devices announces a µModule (power module) step-down regulator which can safely operate in noisy environments....
Toshiba Electronics Europe claims that the TCR13AGADJ is the industry's smallest 1.3A output current CMOS LDO regulator....
Alpha and Omega Semiconductor announces rugged IPM5 600V intelligent IGBT power modules, with optimised efficiency...
Five regulators from Intersil support auxillary rails for industrial and infrastructure PoL applications up to 14A...