Features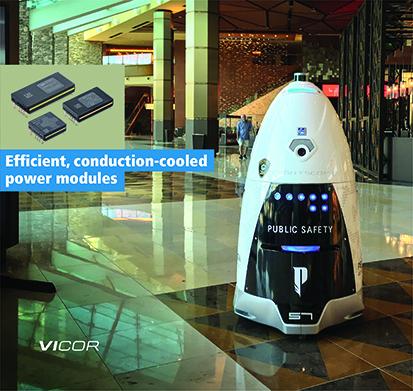 Knightscope's autonomous security robots patrol with superhuman acuity and detection prowess - May 2023
A fusion of innovative robotics, self-driving technology, vehicle electrification and artificial intelligence
More details...
AC/DC power factor correction module offers up to 1,512W
A full brick package developed by TDK-Lambda, the PF1500B-360, is for high voltage distributed power architectures
More details...
Power Electronics Europe News
Metallised film capacitor manufacturer ICW, based in Wrexham, UK, has announced a joint sales agreement with ICEL S.R.L....
A current transducer from Power Electronics Measurements (PEM) provides accurate true rms with 4 to 20mA or 0 to 5V output....
600V trench-gate field stop IGBTs break through power design constraints, claims STMicroelectronics....
New markets for batteries in electric vehicles and stationary energy storage systems are set to boost Lithium-Ion's fortunes....
Texas Instruments has introduced the UCC28180 PFC (power factor correction) controller which halves power dissipation....
International Rectifier has introduced a DirectFET2 power MOSFET for power steering, braking systems and pumps. ...
Toshiba Electronics Europe is sampling a multi-output system power supply IC that enhances automotive monitoring....
The bq27741 is the industry's first Li-Ion fuel gauge, says Texas Instruments. It extends run-time and protects batteries in portable medical and industrial devices. ...
The Frauhofer Institute, SUMIDA Components and Leibherr are collaborating in a GaN-resonant project....
A current-mode dual output synchronous step-down DC/DC controller from Linear Technology caters for very high currents....