Features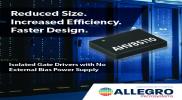 Solving the Challenges of Increasing Power Density By Reducing Number of Power Rails - March 2023
By Andy Wang, Business Line Director, High-Voltage Power Business Unit Allegro MicroSystems
More details...
AC/DC power factor correction module offers up to 1,512W
A full brick package developed by TDK-Lambda, the PF1500B-360, is for high voltage distributed power architectures
More details...
Power Electronics Europe News
The MIC95410 is a 7A load switch in a compact 1.2mm x 2.0mm package from Micrel....
The LTC3371 is an integrated general-purpose power management device for systems requiring multiple low voltage supplies....
DC/DC power modules from Ericsson deliver up to 120W within a wide input range from 18 to 75V DC....
Diodes extends its line of small discrete products for space-critical product design with a trio of small-signal MOSFETs....
Ambiq Micro claims to redefine low power with up to 10x reduction in energy consumption in its Apollo microcontrollers....
Merger of Power Semiconductor Leaders...
Power Electronics Awards ahead of PCIM...
Huawei makes big step...
The LTM4639 DC/DC step-down regulator from Linear Technology, converts main-power system rails to PoL voltages down to 0.6V....
Two DACs from Analog Devices, address emerging radio frequencies to meet the demand for increased traffic....