Features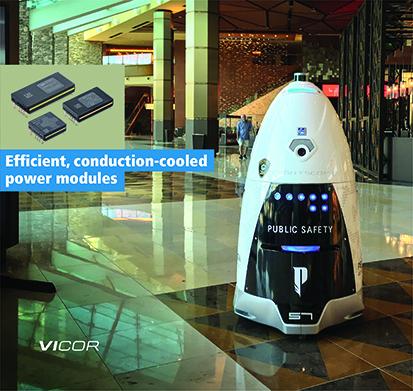 Knightscope's autonomous security robots patrol with superhuman acuity and detection prowess - May 2023
A fusion of innovative robotics, self-driving technology, vehicle electrification and artificial intelligence
More details...
AC/DC power factor correction module offers up to 1,512W
A full brick package developed by TDK-Lambda, the PF1500B-360, is for high voltage distributed power architectures
More details...
Power Electronics Europe News
A power analyzer from Tektronix addresses new demands for energy efficiency, regulations and new silicon technologies....
APEC 2014...
The D1U86G, 460W front end power supplies from Murata Power Solutions achieve conversion efficiency of 92% at 50% full load....
Linear Technology adds the LT3086 to the LDO family of low dropout linear regulators....
Revenues from UPS services in 2014 are forecast to grow by an estimated 7.7%, according to IHS research....
Yuasa Battery Sales adds a high capacity 12V model to its SWL4250 range of industrial valve regulated lead acid batteries....
A series of power MiniLEDs in 2.3x1.31.4mm SMD packages has been announced by Vishay Semiconductors. ...
Sunpower adds four constant current LED power supplies with PFC to its range....
Analyst IHS predicts capital expenditure will grow, as photovoltaic suppliers increase production....
A series of 1200V field stop trench IGBTs targets hard-switching industrial applications such as solar inverters....