Features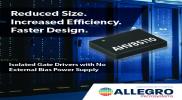 Solving the Challenges of Increasing Power Density By Reducing Number of Power Rails - March 2023
By Andy Wang, Business Line Director, High-Voltage Power Business Unit Allegro MicroSystems
More details...
AC/DC power factor correction module offers up to 1,512W
A full brick package developed by TDK-Lambda, the PF1500B-360, is for high voltage distributed power architectures
More details...
Power Electronics Europe News
The conference programme has been published for this year's show, covering varied topics and with market-focused keynotes....
Miniature, PoL switching regulators from MicroPower Direct provide up to 0.5A of output current. ...
Abstracts on lighting trends and innovations are invited from experts from science and industry. Deadline is Fri 19 February....
The LT3089 has an extended safe operating area (SOA) compared to existing regulators to alleviate output limits....
Configuration via a digital interface allows the PMBus SupIRBuck voltage regulator to reduce design and test time....
A 1.3nJ/b digital polar transmitter, optimised for IoT applications and the IEEE 802.11ah Wi-Fi protocol is unveiled....
Two high power DC/DC converters from Ideal Power are for domestic, industrial, architectural and automotive LED lighting....
The EPC9059 development board from Efficient Power Conversion (EPC) demonstrates how eGaN technology in PoL converters....
RKZ DC/DC converters from Recom are available through Dengrove Electronic Components, which introduces a 24V input option....
A power conversion module combining the functions of a rectifier, an inverter and a "static transfer switch" in one box ...