Features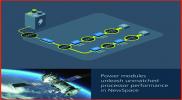 NewSpace demands low voltage, high current power for performance and longevity - Nov 2022
Matt Renola, Senior Director, Global Business Development 'Äď Aerospace & Defense
More details...
Power Electronics Europe News
Dengrove Electronic Components now offers three compact medically- approved DC/DC modules from Recom....
The MAX22513 surge-protected, dual-driver IO-Link transceiver from Maxim Integrated has an integrated DC/DC buck regulator...
Renesas Electronics announces USB-IF-certified reference designs for multi-port USB-C hubs and multi-battery cell power banks...
A fourth eGaN FET has been added to the portfolio of 100V GaN transistors available from Efficient Power Conversion (EPC)...
Recom announces that its 3.5, 5.0 and 6.0W medical grade DC/DC converters are available in low power surface mount versions...
Intelligent power modules (IPMs) from Infineon include the CIPOS Micro IPM with integrated TrenchStop 6 IGBT for motor drives...
An automotive-compliant linear LED controller for automotive LED lighting, is available from Diodes....
Two Hall-effect sensors ICs from Allegro Microsystems have integrated self-test to enhance ADAS safety....
Innovative 91 %-efficient single-stage architecture provides independently regulated multiple CV and CC outputs...
Dengrove Electronic Components offers Recomís space-saving RPM3.3 and RPM5.0 non-isolated DC/DC converters....