Features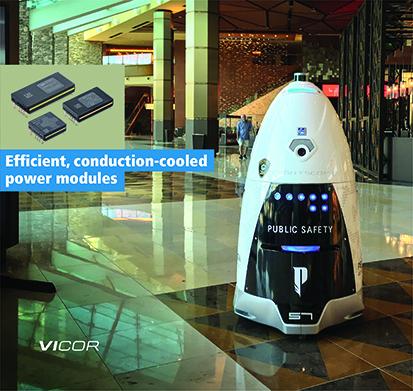 Knightscope's autonomous security robots patrol with superhuman acuity and detection prowess - May 2023
A fusion of innovative robotics, self-driving technology, vehicle electrification and artificial intelligence
More details...
AC/DC power factor correction module offers up to 1,512W
A full brick package developed by TDK-Lambda, the PF1500B-360, is for high voltage distributed power architectures
More details...
Power Electronics Europe News
The HCA3500TF is Cosel's latest conduction cooled three-phase power supply for demanding applications....
The company's GaN power ICs and SiC wide band gap technology devices will be available via the distributor....
Two synchronous buck converters enable engineers to develop PoL optimised for efficiency or size....
Messago Messe confirms a varied programme of presentations and discussion opportunities for PCIM Europe 2023 (09-11 May)....
Rohm has produced short wavelength infrared (SWIR) devices in 1608 sized packages for sensing in portable & wearable devices....
The PSC1065K 650V SiC Schottky diodes have been developed by Nexperia for demanding power conversion applications...
Recom introduces a 40W DC/DC converter measuring 50.8 x 25.4 x 10.2mm for railway projects....
The AEC-Q200-qualified RCS0805 e3 resistor saves board space and lowers component count....
The 150V TPH9R00CQ5 power MOSFETs are based on Toshiba Electronics Europe's U-MOS X-Trench process....
Cosel adds the UMA series of compact medical supplies to its range, introducing the UMA30F and 60W UMA60F models....