Features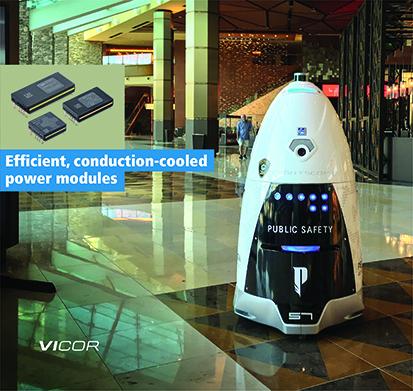 Knightscope's autonomous security robots patrol with superhuman acuity and detection prowess - May 2023
A fusion of innovative robotics, self-driving technology, vehicle electrification and artificial intelligence
More details...
AC/DC power factor correction module offers up to 1,512W
A full brick package developed by TDK-Lambda, the PF1500B-360, is for high voltage distributed power architectures
More details...
Power Electronics Europe News
Two DACs from Analog Devices, address emerging radio frequencies to meet the demand for increased traffic....
Infineon takes new approach for IGBT Modules...
The first two devices in a series of fast body diode n-channel power MOSFETs have been released by Vishay. ...
The ACPL-K30T is an automotive-grade, solid state, photovoltaic driver from Avago Technologies....
International Rectifier simplifies design with building blocks for frequently used circuit elements. ...
Fairchild claims that it has developed the first 1000V switch with the highest breakdown voltage in a single package....
Inverter IPMs (integrated power modules) from ON Semiconductor have an internal bootstrap circuit for high side gate drive. ...
A GaN half bridge from EPC (Efficient Power Conversion) can increase efficiency and power density for buck converter systems....
A 10W wireless charging receiver and transmitter for Qi-compliant devices have been released by Texas Instruments....
The InnoSwitch IC family offers the best of both worlds, says Power Integrations, for switch-mode power supply design. ...