Features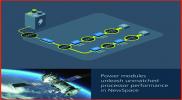 NewSpace demands low voltage, high current power for performance and longevity - Nov 2022
Matt Renola, Senior Director, Global Business Development – Aerospace & Defense
More details...
Power Electronics Europe News
Belgium-based research institute Imec have demonstrated epitaxial growth of GaN buffer layers qualified for 1200 V applications on 200 mm QST® substrates, with a hard breakdown exceeding 1800 V...
Cissoid has introduced two liquid-cooled SiC intelligent power modules (IPMs) and one for natural cooling in aerospace design...
The AOZ2263VQI-01 and AOZ2263VQI-02 from Alpha and Omega Semiconductor support VCCIO rails for Intel Rocket Lake CPU...
Over 99 % efficiency at 200 kW / 100 kHz using 3 5mΩ SiC MOSFETs brings significant benefits to EV and renewables...
SEMIKRON and Silicon Mobility, a solution provider of digital control for electrified powertrain, announced the availability of a 24 V to 96 V inverter platform for battery powered vehicles and industrial off-road vehicles...
PCIM Europe will once again be virtual with digital days accessible online from 3 to 7 May 2021 due to the Covid-19 pandemic...
The US ended 2020 with record wind and solar additions, beating previous highs in all sectors, according to BloombergNEF's (BNEF) 1H 2021 Renewable Energy Market Outlook. The next ten years will see the US wind and solar fleet almost triple....
Texas Instruments claims that the LM25149-Q1 and LM25149 DC/DC controllers are the first to integrate an active EMI filter...
The distributor supports Mean Well's compact module ranges to provide a broad range of modular power supplies worldwide...
The NuEVA HF development platform by NuCurrent offers patented high frequency wireless charging for 'place-anywhere' charging...