Features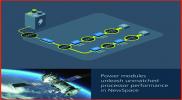 NewSpace demands low voltage, high current power for performance and longevity - Nov 2022
Matt Renola, Senior Director, Global Business Development – Aerospace & Defense
More details...
Power Electronics Europe News
Off-line CV/CC zero voltage switching flyback ICs can reduce the component count and PCB area, says Power Integrations...
The four 650V, 1.0A devices in Nexperia's Clip-bonded FlatPower (CFP) diodes are for industrial and automotive applications...
The Chinese power manufacturer and the European distributor signed an agreement at electronica in Munich...
The latest 150W and 300W half brick DC/DC converters from Recom are in the industry standard, half brick format....
Alpha and Omega Semiconductor (AOS) has introduced 650V and 750V automotive-qualified aSiC MOSFETs ...
The initial eGaN FETs is available with double the power density compared to EPC's previous generation devices....
The CN-110B series converters have an input range of 43 to 160V DC for railway power systems, says TDK-Lambda....
High surge rating surface mount TVS diodes are half the size of other SM devices, says Littlefuse....
Renesas Electronics' RAA271082 automotive PMIC is ISO-26262-compliant and results in HD video over inexpensive cabling....
Full HB-compatible serialiser and deserialiser ICs by Rohm can be daisy-chained for transmission over multiple routes....