Features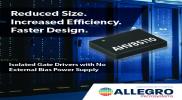 Solving the Challenges of Increasing Power Density By Reducing Number of Power Rails - March 2023
By Andy Wang, Business Line Director, High-Voltage Power Business Unit Allegro MicroSystems
More details...
AC/DC power factor correction module offers up to 1,512W
A full brick package developed by TDK-Lambda, the PF1500B-360, is for high voltage distributed power architectures
More details...
Power Electronics Europe News
Two DC/DC step-down converters by Diodes can drive loads up to 1A with no external compensation to minimize component count....
An automotive-qualified PMIC from Allegro MicroSystems Europe can implement either a buck or buck/boost regulator...
Analog Devices introduces the AD9164 DAC, and claims its high resolution radar images improve accuracy and speed of test....
A family of power modules from Alpha and Omega Semiconductor comply with Intelís DrMOS specifications. ...
Analog Devices and Linear Technology...
Equipped with an intergrated translator, the A5985 DMOS microstepping driver uses a proprietary control method....
Two digital output isolation amplifiers for current and voltage sensing in power converters have been announced by Toshiba....
Claimed to be the industryís first radiation-tolerant 36V instrumentation amplifier, the ISL70617SEH is from Intersil....
Single-chip RS-232/RS-485/RS-422 serial transceivers from Exar now include the XR34350, claimed to simplify designs....
Two, miniature power relays have four times the endurance of the standard G5Q relay, says Omron Electronic Components Europe....