Features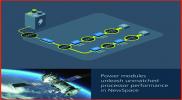 NewSpace demands low voltage, high current power for performance and longevity - Nov 2022
Matt Renola, Senior Director, Global Business Development – Aerospace & Defense
More details...
Power Electronics Europe News
Linear Technology announces LT8608, a 1.5A, 42V input synchronous step-down switching regulator, delivering 93% efficiency....
Surface-mounted DC/DC converters from Murata Power Solutions are footprint-compatible with similar 1.0 and 2.0W devices....
Integrating a high channel count the XR18910 analogue front end sensor interface is offered in a small, 3.5 x 3.5mm footprint...
Allegro MicroSystems Europe has introduced two DC/DC step-down switching regulators for infotainment systems....
Suitable for battery-powered applications, Maxim Integrated's MAX77596 allows always-on operation....
Monolithic, synchronous buck regulators provide continuous output current for in Advanced Driver Assistance Systems (ADAS)....
Wolfspeed has enhanced its GaN RF HEMTs to Class S and Class K equivalent levels for aerospace customers. ...
Characterised by low quiescent current draw and synchronous rectification, Power Integrations introduces InnoSwitch-CE ICs....
A clever isolation technique for Power ICs is now being implemented in IGBT Drivers...
Semis fell, power semis rise...