Features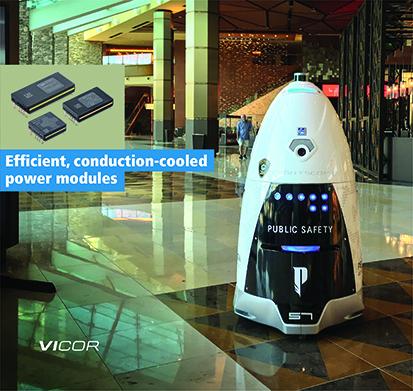 Knightscope's autonomous security robots patrol with superhuman acuity and detection prowess - May 2023
A fusion of innovative robotics, self-driving technology, vehicle electrification and artificial intelligence
More details...
AC/DC power factor correction module offers up to 1,512W
A full brick package developed by TDK-Lambda, the PF1500B-360, is for high voltage distributed power architectures
More details...
Power Electronics Europe News
The BD71847AMWV PMIC contributes to longer operating times and smaller form factors for smart appliances....
Offering a wide input range, the PKE-A DC/DC power modules can be used in the harsh environments of rail and industry....
A package introduced to the IGBT module for high power applications allows for scalable designs and high power density....
The REM2 series of 2W EC/DC converters for critical medical applications are now available from Recom....
Two Power Metal Strip shunt resistors, the WSBS8518…34 and WSBS8518…35 increase accuracy, says Vishay Intertechnology...
The EPC2214 80V eGaN FET is optimised for high resolution lidar system in vehicles for autonomous driving applications...
Equipment and circuit protection from Mersen now addresses markets where power levels exceed 100kWc....
Offering high-bandwidth and electrostatic shielding, the CWTHF current probe will be launched at PCIM Europe....
Alpha and Omega Semiconductor announces the first in its family of aGaN technology devices, the AONV070V65G1...
Dengrove Electronic Components now offers three compact medically- approved DC/DC modules from Recom....