Features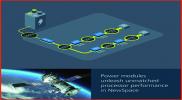 NewSpace demands low voltage, high current power for performance and longevity - Nov 2022
Matt Renola, Senior Director, Global Business Development – Aerospace & Defense
More details...
Power Electronics Europe News
AEA800F delivers 300% peak for up to 3,000ms
The 800W power supply is certified to EN62477-1 (OVC III) standard for industrial applications enabling equipment powered by the AEA800F to be connected to the main distribution panel without adding an extra level of isolation.
The free-air convection cooling power supply is also suitable for medical applications. Its input to output isolation complies with 2MOPP, its input to ground with 1MOPP, and output to ground with 1MOPP for body floating (BF) applications. The power supply is approved to ANSI/AAMI ES60601-1 and EN60601-1 3rd Edition.
Input to output isolation is 4,000V AC, input to ground (FG) is 2,000V AC and output to ground (FG) is 1,500V AC.
The company adds that the layout is optimised for free-air convection for use in equipment being operated in low noise environments.
It is designed for international use, with an input voltage of 85 to 264V AC. Three output voltages, i.e. 24V, 36V and 48V are available with respective current ratings of 34A (peak 72.5), 22.7A (peak 48.4A) and 17A (peak 36.3A). Output voltage can be adjusted using a built-in potentiometer.
For low harmonic current distortion, active power factor corrector (PFC) and LLC resonant switching topology contribute to a typical efficiency of up to 95%.
For additional power the AEA800F can be connected in parallel, up to six units. By adjusting the output voltage on the master unit, the slaves automatically adjust output voltage to be of equal value.
The power supply can be operated at an ambient temperature range of -20 to 70°C. Depending on the assembly method and ventilation used in the final equipment, a derating may apply as specified in the technical documentation.
Safety feature include built-in inrush current, over-current, over-voltage protection circuits and thermal protection.
The open frame power supply measures 50 x 127 x 203.2mm (1.97 x 5 x 8.0 inches) and weighs 1.4kg with the cover.
Target applications are robots and robotics, infusion-pumps, ventilators, actuators, process control, radio and transmission equipment, and emergency signalling.
The AEA800F series has a five-year warranty and conforms to the European RoHS, REACH and Low Voltage Directives.
This latest model joins the AEA600F (600W) and AEA1000F (1,000W) models.
View PDF