Features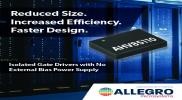 Solving the Challenges of Increasing Power Density By Reducing Number of Power Rails - March 2023
By Andy Wang, Business Line Director, High-Voltage Power Business Unit Allegro MicroSystems
More details...
AC/DC power factor correction module offers up to 1,512W
A full brick package developed by TDK-Lambda, the PF1500B-360, is for high voltage distributed power architectures
More details...
Power Electronics Europe News
High efficiency MOSFETs contribute to safer operation
The compact 20V N-channel RA1C030LD MOSFETs are optimised for switching in small, thin devices, including smartphones and wearable devices such as wireless earbuds and other hearable equipment.
As designs evolve and functionality is increased, more efficient use of battery power is required and the power loss of mounted components must be minimised, advises the company.
MOSFETs in wafer-level chip-size packages (WLCSPs) contribute to the miniaturisation trend while maintaining the necessary characteristics is becoming mainstream in the industry. Rohm has leveraged its strengths as an IC manufacturer to significantly reduce wiring resistance for a compact power MOSFET that delivers low power loss.
The RA1C030LD is offered in the DSN1006-3 WLCSP, measuring 1.0 x 0.6mm and achieves low power dissipation that is 20% lower than standard package products in the same package, says Rohm.
The package provides insulated protection for the side walls (unlike standard products in the same package with no protection). This reduces the risk of shorts due to contact between components in compact devices that must resort to high density mounting due to space constraints, contributing to safer operation.
In addition to smart watches, smart glasses and other wearables, the MOSFETs are suitable for action cameras, smartphones and switching applications in other thin, compact devices.
View PDF