Features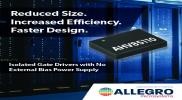 Solving the Challenges of Increasing Power Density By Reducing Number of Power Rails - March 2023
By Andy Wang, Business Line Director, High-Voltage Power Business Unit Allegro MicroSystems
More details...
AC/DC power factor correction module offers up to 1,512W
A full brick package developed by TDK-Lambda, the PF1500B-360, is for high voltage distributed power architectures
More details...
Power Electronics Europe News
Onsemi introduces three 1,700V EliteSiC devices
The initial announcement is a group name for the company's SiC devices – the EliteSiC family. The new additions are a 1,700V EliteSiC MOSFET and two 1,700V avalanche-rated EliteSiC Schottky diodes.
The NTH4L028N170M1 MOSFET delivers higher breakdown for high-power industrial applications while the NDSH25170A and NDSH10170A Schottky diodes allow designers to achieve stable, high voltage operation at elevated temperatures, says the company.

According to Simon Keeton, executive vice president and general manager, Power Solutions Group, onsemi, all three provide best-in-class efficiency with reduced power losses.
They have been introduced to meet the need of renewable energy applications which are moving to higher voltages; solar systems range from 1,100 to 1,500V DC buses. As a result, customers require MOSFETs with a higher breakdown voltage which can be accommodated by the 1700V EliteSiC MOSFET which has a maximum Vgs range of -15V/25V. It is therefore suitable for fast switching applications where gate voltages are increasing to -10V.

At a test condition of 1,200V at 40A, the 1,700V EliteSiC MOSFET achieves a gate charge (Qg) of 200nC. This is a market leading parameter, says onsemi, with equivalent competitive devices closer to 300nC. A low Qg is critical to achieving high efficiency in fast switching, high power renewable energy applications.

At a breakdown voltage rating of 1,700V, the EliteSiC Schottky diode devices offer improved margin between the maximum reverse voltage (VRRM) and the peak repetitive reverse voltage of the diode. The three SiC devices also provide a maximum reverse current (IR) of just 40µA at 25°C and 100µA at 175°C. Competitive devices are often rated at 100µA at 25°C, points out onsemi.