Features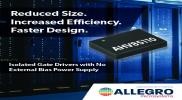 Solving the Challenges of Increasing Power Density By Reducing Number of Power Rails - March 2023
By Andy Wang, Business Line Director, High-Voltage Power Business Unit Allegro MicroSystems
More details...
AC/DC power factor correction module offers up to 1,512W
A full brick package developed by TDK-Lambda, the PF1500B-360, is for high voltage distributed power architectures
More details...
Power Electronics Europe News
Battery cell and pack monitors support EV manufacturers gain confidence
Texas Instruments (TI) claims that the automotive battery cell and pack monitors provide an unprecedented level of accuracy and precision in measuring battery voltage, current and temperature to effectively determine the true range of a vehicle and increase battery pack lifetimes.
Even a slight change in temperature can have a significant impact on an EV's range, explains TI. Colder weather, in particular, can impact battery range by up to 40%, and such variations can create considerable uncertainty in battery voltage and therefore EV range.
The BQ79718-Q1 allows manufacturers to maximise the true range of the EV because the battery cell voltage can be measured down to 1mV. The BQ79731-Q1 allows measurement of the battery pack current down to 0.05% accuracy, adds TI. In this way, an accurate state of charge at the individual cell and pack level can be provided, to reflect the true remaining mileage.
Voltage and current synchronisation of 64µs enables instantaneous monitoring of battery pack power for a real-time snapshot of battery health. This level of synchronisation enables electrochemical impedance spectroscopy, which provides insight into the cell core temperature, battery aging and state of charge of the battery.
The BQ79718-Q1 battery cell monitoring IC achieves what is claimed to be an unprecedented ASIL (Automotive Safety Integrity Level) accuracy for main path, redundant path and residual error seeking, which allows vehicle manufacturers the ability to charge and discharge a vehicle battery pack beyond any cell monitor previously on the market, according to the company.
TI also provides the battery cell monitor BQ79718-Q1 evaluation module (BQ79718EVM-049). This is an 18-channel BQ79718-Q1 in a 10 x 10mm, 64-pin thermally enhanced thin quad flat package (HTQFP). The battery pack monitor BQ79731-Q1 evaluation module (BQ79731Q1EVM-060) is also available in a 7.0 x 7.0mm, 48-pin thermally enhanced thin quad flat package (HTQFP).
View PDF