Features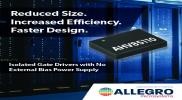 Solving the Challenges of Increasing Power Density By Reducing Number of Power Rails - March 2023
By Andy Wang, Business Line Director, High-Voltage Power Business Unit Allegro MicroSystems
More details...
AC/DC power factor correction module offers up to 1,512W
A full brick package developed by TDK-Lambda, the PF1500B-360, is for high voltage distributed power architectures
More details...
Power Electronics Europe News
150V MXT (Magnachip eXtreme Trench) MOSFET suits light EVs
Magnachip Semiconductor's eighth generation 150V MXT MOSFET is optimised for energy efficiency systems in electric devices such as light electric vehicle (LEV) motor controllers and battery management systems (BMS).
The trench MOSFET technology delivers 28% lower RDS(on), compared to the previous generation, due to the enhanced design of the core cell and termination, resulting in a high figure of merit without increasing the total gate charge.
The MDT15N054PTRH is available in a surface mount device TOLL which reduces the final product size and improves heat dissipation, says Magnachip.
The energy efficiency is enhanced by fast switching, while enabling high power density, Magnachip explains. The guaranteed operating junction temperature ranges from -55 to 175 degrees C and a high level of avalanche ruggedness which contributes to the MXT MOSFET being able to exceed the performance requirements of LEV motor controllers and BMS.
View PDF