Features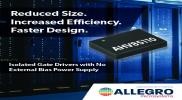 Solving the Challenges of Increasing Power Density By Reducing Number of Power Rails - March 2023
By Andy Wang, Business Line Director, High-Voltage Power Business Unit Allegro MicroSystems
More details...
AC/DC power factor correction module offers up to 1,512W
A full brick package developed by TDK-Lambda, the PF1500B-360, is for high voltage distributed power architectures
More details...
Power Electronics Europe News
STMicroelectronics offers more devices in ACEPACK SMIT packages
STMicroelectronics extends its packaging to two STPower 650V MOSFET half bridges, a 600V fast diode bridge, a 1,200V half-controlled full-wave rectifier, and a 1,200V thyristor-controlled bridge leg.

The SH68N65DM6AG and SH32N65DM6AG 650V-MDmesh DM6 MOSFET half bridges now available in ACEPACK SMIT are AQG-324 qualified. Their Rds(on) (max) of 41mΩ in the SH68N65DM6AG and 97mΩ in the SH32N65DM6AG ensures high electrical efficiency and low thermal dissipation. The MOSFETs can be used in DC/DC converters for both on-board charging and high voltage to low voltage section. Their multi-role flexibility helps streamline inventory and simplify procurement.
The STTH60RQ06-M2Y 600V, 60A full-wave bridge rectifier comprises fast diodes with soft recovery characteristic and is PPAP capable for use in automotive applications.
The STTD6050H-12M2Y 1,200V, 60A half-controlled single-phase AC/DC bridge rectifier is AEC-Q101 qualified and has high noise immunity with dV/dt of 1000V per microsecond.
The STTN6050H-12M1Y is a 1,200V, 60A half bridge that comprises two internally connected thyristors (silicon-controlled rectifiers – SCRs). The MOSFET is AEC-Q101-qualified for use in automotive on-board charging, charging stations and industrial applications such as AC/DC conversion in motor drives and power supplies, single- and tri-phase controlled rectifier bridges, totem-pole power-factor correction and solid state relay.
The 4.6cm2 exposed metal topside of the ACEPACK SMIT permits easy attachment of a planar heatsink, says the company for a low profile that maximises thermal dissipation for greater reliability at high power. The module and heatsink can be placed using automated inline equipment, which saves manual processes and boosts productivity.

The moulding compound offers resistance to moisture and heat, which makes is suitable for industrial as well as automotive applications, added the company.
The 32.7 x 22.5mm package footprint allow 6.6mm lead-to-lead creepage distance. The tab-to-lead insulation is 4,500V rms. The package also has low parasitic inductance and capacitance.
View PDF