Features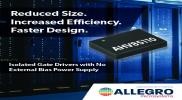 Solving the Challenges of Increasing Power Density By Reducing Number of Power Rails - March 2023
By Andy Wang, Business Line Director, High-Voltage Power Business Unit Allegro MicroSystems
More details...
AC/DC power factor correction module offers up to 1,512W
A full brick package developed by TDK-Lambda, the PF1500B-360, is for high voltage distributed power architectures
More details...
Power Electronics Europe News
Bi-directional PTVS diode is high current model in SM DFN package
The PTVS20-015C-H PTVS diode
features 20kA, eight/20m
µs
surge handling capability with a low clamping voltage of 15V.

Packaged in a compact, surface mount DFN package, the
PTVS diode delivers electrostatic discharge (ESD) protection for high power DC line protection. The diode meets IEC 61000-4-2 Level 4 ESD protection requirements. It also features low clamping voltage at peak pulse current and assists in meeting IEC 61000-4-5 current surge requirements for lightning protection.
In order to support large currents, e.g. 60kA, designers typically have had to connect many devices with low current handling capability in parallel, but using this single device capable of handling 20kA, means fewer devices can be connected in parallel to achieve the same desired protection level. In addition to reducing the total bill of materials while saving PCB space.
The Bourns Model PTVS20-015C-H is available now and is RoHS-compliant and halogen-free.
View PDF