Features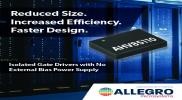 Solving the Challenges of Increasing Power Density By Reducing Number of Power Rails - March 2023
By Andy Wang, Business Line Director, High-Voltage Power Business Unit Allegro MicroSystems
More details...
AC/DC power factor correction module offers up to 1,512W
A full brick package developed by TDK-Lambda, the PF1500B-360, is for high voltage distributed power architectures
More details...
Power Electronics Europe News
Vishay Siliconix adds four eFuses in TDFN package
Supplied in a compact 3.0 x 3.0mm TDFN package, the eFuses operate over an input range of 2.8 to 23V, with a 28V IN DC tolerance. The integration of multiple control and protection features simplifies designs and minimises the need for external components, says the company.
Unlike competing switches which only offer voltages to 18V, or are missing the low voltage side, the single-channel load switches can be used in a wider range of designs, including industrial and medical equipment, robotics, consumer goods, home automation systems and gaming consoles. Precise control and swift fault responses enhance system safety and reliability, adds Vishay.
At switch-off due to latchable faults, the SiP32433A and SiP32434A are designed to latch the power switch off, while the SiP32433B and SiP32434B will auto-retry after a settable period of time.
All four devices respond swiftly to short circuits and over-current protection is triggered at a set current limit level without an excessive overhead current requirement. This is important where power buses need to support multiple loads; competing devices available today often require overhead currents of more than 30%, reports the company. The SiP32433A and SiP32433B have active reverse blocking, suitable for applications featuring USB Type-C and multiple power source switching.
The load switches reduce on-resistance by 43% compared to previous-generation solutions, which translates into a 32% higher current capability or increased efficiency at the same current level. The 78Ω SiP32433A / SiP32433B has a current limit setting range of 0.3 to 3.5A, while the 33mΩ SiP32434A / SiP32434B offers a range of 0.5 to 6.0A. Both devices guarantee current limit accuracy down to ± 8% in addition to simplifying the bill of materials.
The hot-swappable load switches feature a programmable turn-on slew rate, provide ESD tolerance of 2kV (human body model) and 0.75kV (charged device model), and operate over a temperature range of -40 to 125°C.
Samples and production quantities of the eFuses are available now, with lead times of 20 weeks.
View PDF