Features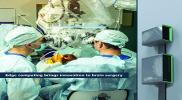 Edge Computing Leverages Modular Power in Scalable Micro Data Centres - May 2022
Edge computing is essential to realizing the full potential of artificial intelligence (AI), machine learning and internet of things (IoT). These technologies are being infused into every corner of...
More details...
Power Electronics Europe News
Integrated SoCs comply with AEC-Q100
The SoCs comply with Automotive Electronics Council (AEC-Q100) qualification standard temperature grade 2, a stress test qualification for automotive ICs.
The nine include step-down PowerSoCs from the EP53xx and EN63xx families, supporting load currents up to 12A. Unlike discrete power products, they are simulated, characterised and production-qualified, to streamline and accelerate the design-in process. They can be used with the company's automotive-grade Cyclone FPGAs and SoCs and MAX FPGAs and CPLDs.

Fewer components and a tightly controlled IC manufacturing processes are claimed to provide 45,000-year MTBF (mean time between failures). In ADAS (advanced driver assistance system) FPGAs can run algorithms at high frame rates and process multiple algorithms simultaneously. According to the company, integrating the inductors, high-frequency filter capacitors, controller, and MOSFETs, the SoCs typically have a 25 to 50% smaller footprint compared to alternative discrete switching regulators and modules. They offer up to 96% peak efficiency can be used in infotainment and driver information; ADAS and electric vehicle and powertrain systems.
View PDF