Features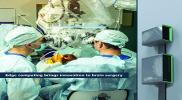 Edge Computing Leverages Modular Power in Scalable Micro Data Centres - May 2022
Edge computing is essential to realizing the full potential of artificial intelligence (AI), machine learning and internet of things (IoT). These technologies are being infused into every corner of...
More details...
Power Electronics Europe News
Claimed to achieve 70% wider bandwidth than competing devices, the 16bit AD9136 and the 11bit AD9135 dual 2.8Gsample/s A/D converter are available from Analog Devices.
In addition to 70% higher signal bandwidth than competing devices, they enable designers to support emerging E-band (71 to 76 and 81 to 86GHz) frequencies being adopted by wireless carriers to support high-speed mobile voice and data transfers.
Both have a maximum sample rate of 2.8 GSPS, which allows multicarrier generation up to the Nyquist frequency. They support complex input data rates of up to 2.12Gsample/s per D/A converter using an eight-lane, 10.6Gbit/s JESD204B interface.
SFDR (spurious-free dynamic range) is better than -80dBc and noise performance is -163dBm/Hz. that provide high quality synthesis of wideband signals. According to the company, the speed and noise performance results in faster, cleaner data transmission and reduces infrastructure costs by allowing wireless carriers to space point-to-point microwave repeaters farther apart.
Operating at 1.4W under full operating conditions, the D/A converters integrate a low-noise PLL (phase-locked loop), which lowers materials costs and simplifies system design by eliminating the need for a high-performance source clock. Interpolation filters with selectable interpolation factors of one, two, four, and eight, are also included.
In a point-to-point radio system design, the D/A converters can interface seamlessly with the company's ADRF672x analogue quadrature modulators.
Visit Analog Devices at electronica 2014: Hall A4-159.
View PDF