Features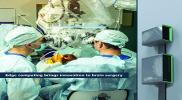 Edge Computing Leverages Modular Power in Scalable Micro Data Centres - May 2022
Edge computing is essential to realizing the full potential of artificial intelligence (AI), machine learning and internet of things (IoT). These technologies are being infused into every corner of...
More details...
Power Electronics Europe News
Fast switching development boards simplify evaluation
The boards are designed to simplify evaluation of the company's EPC8000 high frequency, high performance eGaN FETs. There is a board for each device in the series, each containing two eGaN FETs in a half-bridge configuration with minimum switching frequency of 500kHz. The boards contain all critical components and layout for optimal high frequency switching performance, says the company, with probe points for simple waveform measurement and efficiency calculation.
View PDF