Features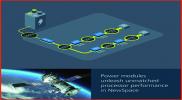 NewSpace demands low voltage, high current power for performance and longevity - Nov 2022
Matt Renola, Senior Director, Global Business Development – Aerospace & Defense
More details...
Power Electronics Europe News
Medical power adapters have double protection
The TMP65 Class II units, with an IEC 320/C8 AC inlet without a ground pin, are double insulated to protect where the availability and integrity of an earth cannot be guaranteed. The Class I units have an IEC 320/C6 AC inlet that has a ground pin. Both Class I and Class II units have a 5.5x2.5x11mm right angle barrel plug as the standard output connector. Standard single output voltages are 12, 15, 18, 19, 20 or 24V with continuous output power of up to 65W. Non-standard output voltages are available upon request. The power adapter has an 85 to 265V AC continuous input range with 0.98 active power factor. Class I units can withstand 5,600V DC from input to output, 2,100V DC from input to ground, 700V DC from output to ground and Class II units have a withstand voltage of 4000V AC from input to output. With touch current being lower than 100µA, the power adapter has a low earth leakage current of 300µA maximum at 264V AC/63Hz and can operate at an ambient temperature range of 0 to 60°C, with no derating required between 0 to 40°C. The MTBF is higher than 150,000 hours at full load and 25°C ambient per MIL-HDBK-217F. The power supply is fully protected against overvoltage, overload, and short-circuit conditions. The supplies are approved by UL and TUV to the third edition medical standards, including IEC/EN 60601-1:2008, ANSI/AAMI ES 60601-1: 2005 and CSA-C22.2 No. 60601-1:08. The power adapter complies with EN 60601-1-2 EMI and immunity standards including EN 55011/FCC/VCCI class B (conducted and radiated emissions), EN 61000-3-2, EN 61000-3-3, EN 61000-4-2, EN 61000-4-3, EN 61000-4-4, EN 61000-4-5, EN 61000-4-6, EN 61000-4-8, EN 61000-4-11. With efficiency higher than 87%, the supplies comply with CEC and Energy Star efficiency level V requirements. No minimum load is required while still maintaining 5% tolerance throughout the full load range.
View PDF