Features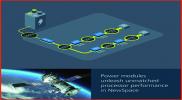 NewSpace demands low voltage, high current power for performance and longevity - Nov 2022
Matt Renola, Senior Director, Global Business Development – Aerospace & Defense
More details...
Power Electronics Europe News
SiC Schottky diodes target micro-solar inverters
Targeted at micro-solar inverters as well as voltage multiplier circuits used in X-ray, laser and particle generator power supplies, the SiC rectifiers from GeneSiC Semiconductor are available in the 650 to 3300V range.
The 650V/1 A; 1200V/2 A and 3300V/0.3A Schottky rectifiers feature zero reverse recovery current that does not change with temperature.
The 3300V devices are claimed to offer relatively high voltage in a single device, to reduce voltage multiplication stages in typical high voltage generator circuits, through the use of higher AC input voltages. The switching characteristics allow can reduce or even eliminate voltage balancing networks and snubber circuits, claims the company.
The SMB (DO-214AA) over-molded package has an industry-standard form factor for surface mount assemblies.
View PDF